Most every year there is a gathering of C-boaters, or boaters who use a single bladed canoe type paddle to navigate rivers. Typically they meet in northeastern West Virginia, western Maryland where the North Branch of the Potomac River forms the border and flows between these two states. There are an increadable number of rivers that flow from the Allegheny Mountains down through canyons and gorges to the Potomac River and eventually to the Chesepeke Bay presenting a dizzying array of potential rivers to boat on.
Along with the broad variety of rivers to boat on, there are a vast number of craft to do the boating with. From C-1 and C-2, decked boats with one or two paddlers respectively to OC-1 and OC-2, open canoes for one or two paddlers. And the types of decked and open boats are quite numerious too. From creek boats to race boats to squirt boats to play boats. There are plenty of examples of just about every type of boating that you could want to do reflected in the boats that are present.
The boats and the boating however are just a part of the weekend long festivities. Two well known makers of paddles and boats live and work in the region and so attendees of this gathering visit these makers and their shops.
Paul Schreiner is the owner and maker of boats at PS Composites in Markleysburg, PA. Kayaking and building boats since the 1970's he has volumes of photo albums of unique boats that he has created over the years. Using the alternating fiberglass and polyester layup technique, he creates a one of a kind boat that is light, strong and custom sized to the paddler. In the image below Paul is kneeling with a Shaggy Designs, Sith C-1 boat and giving the designers, Martin and Gwyn tips on building custom boats.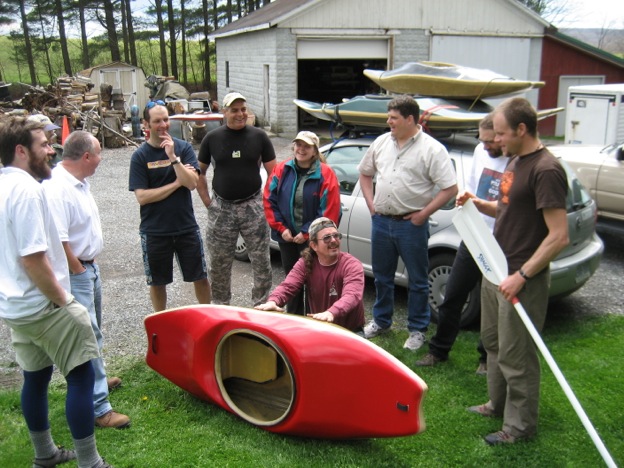 Another great maker in the area is Jim Snyder of River Styx. A boater since the mid 1960's, Jim has designed many boats over the years and has been a pioneer in the whitewater boating world and one of the originators of the niche of "squirt" boating. But what he is probably most well known for is his Jimistyx paddles. Hand built, custom wooden paddles made for the individual paddler, these are works of art that any paddler would love to possess. In the image below Jim is talking about paddle design and fabrication at his shop in Albright, WV.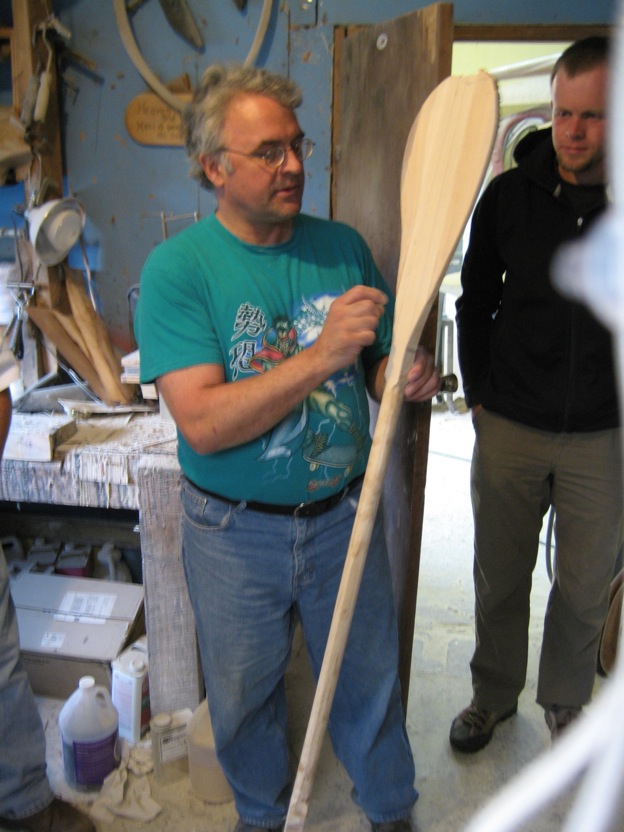 Makers of one of a kind paddles and boats that will look like a work of art as you float down the river.